Our product development team was at TrailheaDX last week, so we have Lightning on the brain. Salesforce's Lightning Experience is where the platform is headed, and TaskRay has been at the vanguard of being Lightning ready since last August.

That's why were happy to see that Salesforce Summer '16 release has given customers the ability to customize both their Home and Record pages in Lightning Experience. That change allowed us to create three additional (we already had four components) components to help TaskRay users extend their business processes to where and when they need them most.
TaskRay Inbox - Organize your day based on your TaskRay tasks with upcoming due dates. Our inbox component (designed especially for your Salesforce Home Page) shows upcoming tasks as well as showcases the Chatter collaboration going on around those tasks. (As an added bonus, when you get to Inbox Zero, something very fun happens!)

Time-tracking - TaskRay recently added time-tracking as a standard feature. We've now added a Lightning Component allowing users to track time on tasks from anywhere in Salesforce.

Template Creator - Want to quickly create TaskRay projects from anywhere? Drop this component into the areas of Salesforce where you would use it the most. (If a project template is launched from a record page, TaskRay will automatically point any project lookup field values to that record.)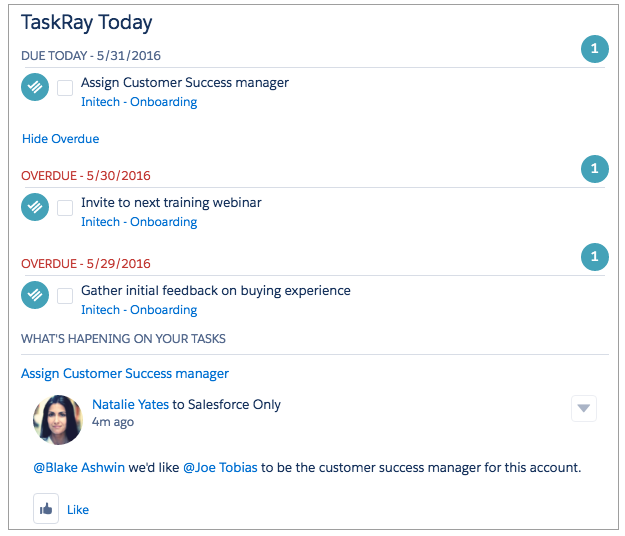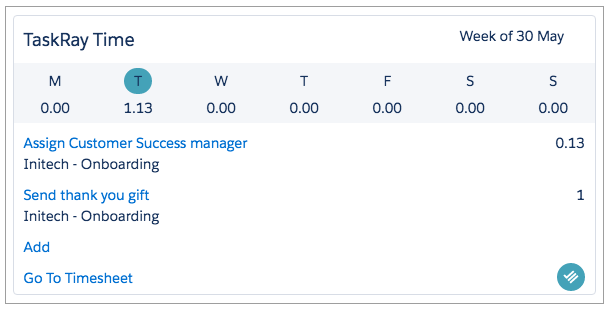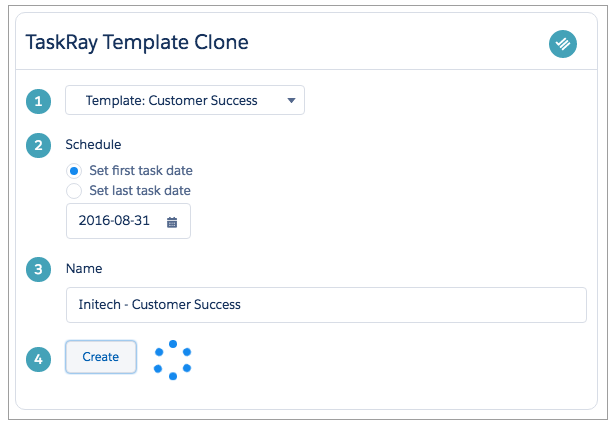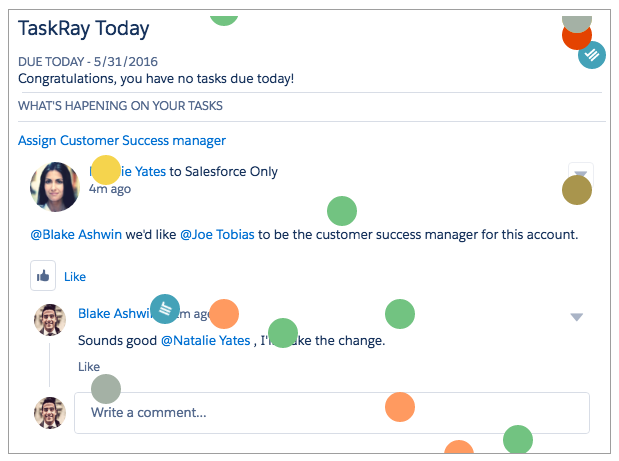 These three new functions join the four we launched last summer. Here is a quick summary of the original components we created:
TaskRay To-Do List - A list of the tasks needed to complete a project.

TaskRay Snapshot - The number and status of tasks in a project.

TaskRay Board - A mini Kanban board to visualize and manage your project tasks.

TaskRay Status Bar - A percentage complete bar to visualize progress-to-date of your project.
Join us for a webinar to learn how to maximize the benefits TaskRay's Lightning Components for your organization.
Ready to try any or all of these components? Head on over to the AppEx to get your free TaskRay Lightning Pack.